Yantis Company wishes a happy holiday season to all our friends, partners, clients and employees!
2019 has been a BIG year for Yantis Company and we look forward to breaking ground on many more milestone projects in 2020!
We are thrilled to announce that our Director of Business Development & Marketing has landed a spot in #SABJ "40 Under 40" awards! Congratulations on your achievements Ashley Nelson Orndorff. We are so proud to have you on our team 👏 https://www.google.com/amp/s/www.bizjournals.com/sanantonio/news/2019/12/11/sabj-presents-the-40-under-40-awards-honorees-for.amp.html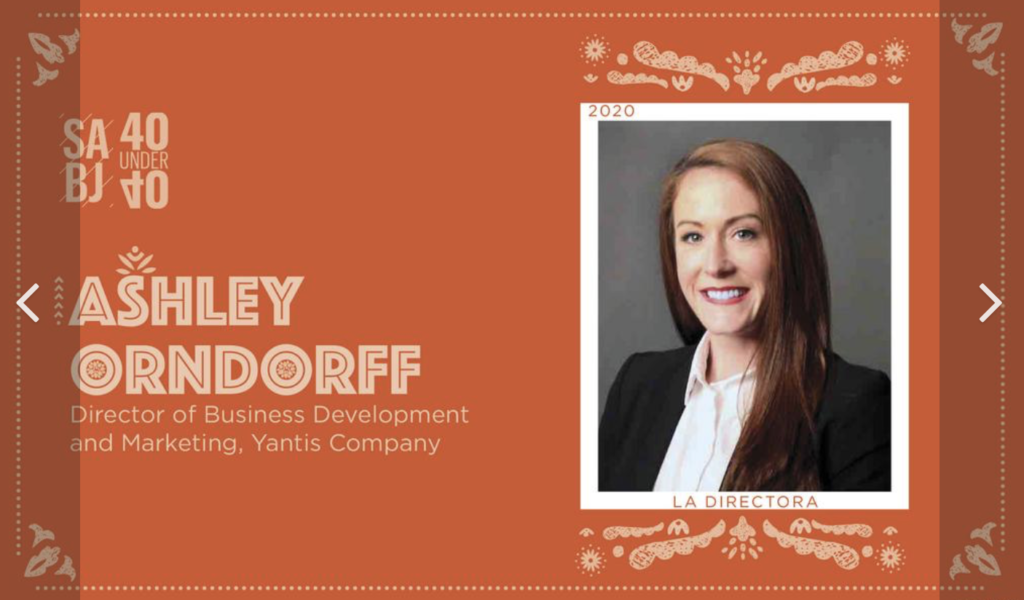 Local real estate company Rohde Ottmers Siegel Realty, in partnership with
McCombs Enterprises, plans to develop a 24-acre plot in Sequin.
The partnership bought the land, which is at the corner of Texas Highway 46 and
C.H. Matthies Jr. Drive, last year from the John Schaefer Trust and has broken
ground on sewer, water and drainage infrastructure. Yantis Construction is
handling the initial site work, while Villa Park Architecture has designed the master
plan. KFW Engineers & Surveying is also involved in the project.
Initial users have bought portions of the development, including Denver-based
DaVita Inc., which is building a 12,000-square-foot medical building, as well as pad
site users Chicken Express and Burger King. Rohde Ottmers Siegel Realty is
preleasing a 25,000-square-foot retail center that it is developing, which will be
built next year.
"With the explosion of single-family subdivisions in this part of Seguin and the growth in Far East San Antonio [along]
Interstate 10 East …, this intersection will soon host more retail as well as sit-down restaurants, hotels and office
buildings," said Tom Rohde, president of Rohde Ottmers Siegel Realty, in a statement. "The growth between Seguin and
New Braunfels along [TX-]46 is amazing, and for the first time, Seguin is seeing much higher-income families moving into
the area in subdivisions where the homes start at $300,000 to $400,000."
The U.S. Census Bureau reported this year that New Braunfels had the country's second-highest one-year population
growth rate at 7.2%. That growth has spilled over to neighboring Seguin, where more than 8,100 future single-family lots
are being built or planned.
Those 8,119 lots are being built over 27 new subdivisions, said Josh Schneuker, the city of Seguin's director of economic
development. Of those, nine are under construction. The future homes could help Seguin's population grow by at least
half in the coming years. The city's current population is estimated at 29,700, according to the Census Bureau.
"We definitely think this is a spillover effect from New Braunfels. It's getting pretty saturated along the corridor, and we
believe Seguin offers good property at a good price while also being pretty close to San Antonio, offering many of the
amenities you would find along [Interstate] 35 with more reliability as far as traffic congestion in concerned," Schneuker
said.
Schneuker said Seguin is open to more development, and wants to recruit across the entire spectrum of development,
including dining, entertainment and more.


With $1,000, John Yantis started a construction company in 1965, mainly as a utility contractor involved in building civil infrastructure across San Antonio, South Texas and the Austin area.
Today, Yantis Co. is a full-service civil construction company and a household word for companies such as Pape-Dawson Engineers Inc. and private developers such as the legendary Marty Wender. Yantis worked on building Six Flags Fiesta Texas and most of Wender's Westover Hills development.
"We build streets, drainage systems, bury utilities, and we've even extended the runway a few times at San Antonio International Airport," said Mike Yantis Jr., CEO and the third generation Yantis to lead the company started by his grandfather.
Since then, Yantis has built well over a $1 billion of work on private and public projects for various municipalities, the Army Corps of Engineers, Texas Department of Transportation and private developers statewide. Now, the company has been recognized as one of the San Antonio Business Journal's inaugural Family-Owned Business Awards honorees.
For 56 years, the people at Yantis have rolled up their sleeves and gotten down in the ditches. And they were visionaries who became early adaptors of 3D modeling for street grading, Yantis Jr. said.
"We were one of the first firms to start using GPS automated equipment out in the field," he said, emphasizing that the company's ability to quickly adapt is traceable directly to his grandfather.
The founding Yantis was 33 when he struck out on his own in 1965. He had saved $1,000 and borrowed $9,000 for the $10,000 needed to bid on the company's first job — the Vance Jackson sewer. That first project involved building a 36inch sewer line in solid rock 16 feet deep.
Hard work, integrity and street smarts carried the company through the '70s, '80s, '90s and into the 21st century, Mike Yantis Jr. said. He credits his father, Mike Yantis Sr., who became the company's president in 1982, with shepherding it through the turbulence of those decades.
Mike Yantis Jr., who was a Business Journal 40 Under 40 honoree in 2007, started working summers as soon as he turned 17 and continued through his college years. He came officially on board in 2002 and was named CEO in 2017. His younger brother, Matt Yantis, has been a company employee since 2006. Last year, Matt Yantis was also a 40 Under 40 honoree.
It's not unusual to find all the Yantis men on the job: John, 88; Mike Sr., 65; Mike Jr., 39; and Matt, 37. There is also an "honorary Yantis" — longtime employee Arnold Briones, 43, who has been the company's chief operating officer for 12 years. "Our secret is our workforce," Mike Yantis Jr. said. "We have some of the best in the business, … people who have been here 50 of our 54 years in business. Heck, they went to work for my grandfather."
The San Antonio Business Journal is proud to celebrate local family-owned businesses with its first Family-Owned Business Awards.
The awards honor local multigenerational businesses that have demonstrated excellence, innovation, ethics and philanthropy. Honorees will be recognized at a lunch event on June 20 at the McNay Art Museum.
All of the honorees meet the following criteria.
At least 51 percent owned by the family
Have multiple generations involved in the operations of the company and/or have established longevity in business.
Be based in one of the following counties: Atascosa, Bandera, Bexar, Comal, Guadalupe, Kendall, Medina or Wilson
Yantis Company is excited to announce and welcome Grant Robinson as the Company's new Austin Division Manager. Grant will be responsible for overseeing all Central Texas operations, including managing and developing local supplier and client relationships and expanding the Company's presence in the Central Texas region. He brings nearly 15 years of heavy civil construction and land development experience, having constructed some of the region's largest single-family home developments. "We have always viewed Austin as a potential place for business, but we wanted to ensure we had the right leader in place before we made the move. Grant matches Yantis Company's ideals and commitment to customer satisfaction and we look forward to him helping us become a trusted member of the Austin business community," CEO, Mike Yantis Jr., said.
Grant joins Yantis Company after spending 13 years with one of Austin's largest civil construction firms, serving at all levels of project management. In 2017 alone, Grant was responsible for overseeing 20 project managers and over 100 projects at one time. He also helped lead the Company's recruiting efforts by bringing in and training talented project managers and field staff. His strong management skills helped the Company grow by over 25% annually to a record year of over $300 million in revenue. Grant is well-known in the industry and has established strong relationships with numerous local homebuilders, developers, contractors, and municipalities. He holds a Bachelor of Science from the University of Texas at Arlington.
About Yantis Company:
Yantis Company has been one of South Texas' most well-known heavy civil construction firms for more than 50 years. Services include commercial/industrial, single-family development, public infrastructure, asphalt maintenance, curb/concrete construction, and rock milling and trenching.